Order and payment 100% secure
From payment to delivery, you are protected
In the site and its partner stores, customer relations are at the heart of our priorities. That's why we strive to make your experience as enjoyable as possible. This applies to both the products we offer and the services we provide to you before, during and after your purchase.
Choosing us is the assurance of optimal customer satisfaction and service. We will do everything we can to ensure you have the best possible experience. You will discover that buying online is simple and worry-free.
- You have just placed an order and here is at your disposal the possibility to choose several secure payment methods.

> Secure online payment
- Secure payment from credit cards : CB "Carte Bleue", Visa, Eurocard/Mastercard, Maestro, e-CB or American Express, Simple, fast and secure means of payment. Pay for your purchases online without revealing your bank details.
This payment method is completely secure, since at the time of payment, you are redirected to an approved payment platform and using a protocol for encrypting your data (https). Note that the credit card payment method uses the "3Dsecure" which consists of sending you a confirmation code of your payment by SMS (or via your banking application) in order to ensure that you authorize the transaction. You are then automatically redirected to our shop, which confirms the success of your payment and gives you your order number.
The information you enter on the interface is completely secure because this screen is managed by your bank.
The site therefore does not have access to it and has, in no way, knowledge of your codes.

- Credit cards accepted:



- Bank cards CB "Carte Bleue".
- Bank cards Eurocard/Mastercard.
- Bank cards VISA.
- Payments by e-CB (you just have to select a credit card CB during the payment phase).
- Maps American Express.
- Maps PayPal and their secure partners.
- Maps Stripe and their secure partners.

In order to facilitate your future purchases, you will have the possibility to save the information relating to your payment card such as CB, Visa, MasterCard, Maestro, or American Express. This strictly confidential information is recorded and secured with our partners Payplug, Stripe, Scalapay. No information relating to your payment is therefore kept with us.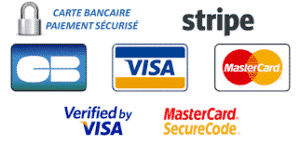 This system has been designed by Visa and MasterCard to guarantee the security of your payments and prevent fraudulent credit card payments on websites.
We have joined this program to allow you to benefit from this enhanced security.
3D Secure is called "Verified by Visa" at Visa, "MasterCard Secure Code" at MasterCard and "Safe Key" at American Express.

In practice, when paying by credit card on the site, you enter as usual your card number, the expiration date and the 3-digit cryptogram located on the back of your card.

- Payment in three instalments free of charge:



Scalapay allows you to pay for your order in three installments free of charge and in total security.
Select Scalapay as the payment method at checkout.
After confirming your order details, you will be asked to log in to your Scalapay account in order to complete the payment. If you don't have an account, you can create one from the Scalapay login page before completing your purchase. Add a credit, debit or prepaid card on which the withdrawals will be made.

You can choose to pay with Scalapay for orders not exceeding €2,000 (including shipping costs).
Wait for the payment validation. Once received, you will finalize your order and pay your first deadline. The following will be charged within two months of your purchase.
An email will remind you of the payment of the due date.

- Transfer:
If you wish, you can also pay by bank transfer, in this case your order will only be processed upon receipt of your payment on our bank account. Our bank details appear when you select "payment by bank transfer" on your order.
Processing is fast, and there is often a 1-2 day delay between the time you are debited from your bank account and the time we receive your transfer.

- Immediate transfer with bank-to-bank payment in France by Fintecture:
Payments by Immediate Transfer with 99% of French banks.
An online payment has never been easier:

1. You choose to "Pay by Immediate Transfer" at checkout to pay for your order.
2. You select your bank in France.
3. You are redirected to your bank and which authenticates you directly with your usual web banking credentials.
4. You verify and confirm the payment. You don't have any information to enter, everything is pre-filled.

- PayPal:
With PayPal, you can pay quickly and securely with just a few clicks.
On simple request by email, you can ask us to pay by PayPal, we will return a payment request on your email.

You can choose to pay with PayPal for orders not exceeding €850 (including shipping costs).
You can then pay at your convenience with a credit card or your PayPal balance.



- Check:
We offer our customers the possibility to pay in 1 or more times by check.

- Cash by money order and Western Union:
You will need to get closer to a post office, an exchange office or your bank and fill out a form with the necessary information and contact details. You will then have to pay the application fee or even the exchange fee in addition to the sums transferred. All this can also be done over the Internet, from a secure account. However, this option is more restrictive than secure payment by credit cards.

- Payment by combined payments:
We also offer you the possibility to combine several of our payment solutions.
For example, you can pay a deposit on a commodity by credit card and pay the balance by bank transfer, check or financing.
Contact our sales department through the contact form, and our advisors will study with you the solution that suits you best.

> Order online
Select a product
- Browse the site to find the product that suits you.
- You can at any time choose to place your order by phone or with our partner stores.
- You can also request a quote directly with your user account.

Add it to your cart
Choose your product and then click "Add" to the cart. Once you have added a product to your shopping cart, you can delete it, change the quantity, review additional accessories, continue shopping or continue to register your order. You have no obligation to purchase the products in your shopping cart. When you are ready to place your order, simply go to your shopping cart and click on "Save".

Complete your transaction
If you have not already done so, you will be prompted to open an account. The order registration process consists of four quick steps:

Step 1: Order
Step 2: Verification of the order and the price
Step 3: Order confirmation
Step 4: Payment
Step 5: Confirmation of the transaction by issuing an order number
Step 6: Sending an acknowledgment of receipt electronically

For even more ease, we deliver your purchase anywhere in the world.

>> For any questions or advice about your solution secure payment, our team of professionals is at your disposal, by phone or e-mail.


Living Better & High Quality - Brand Specialist
Expert in the sale of equipment, furniture and contemporary objects for the home, garden, swimming pool, heating and well-being.